Day 41 Wednesday Finished the two day trip across the Caballo Mts (see Day 2 of Caballo Mts trip)

On our way out toward T or C we passed Elephant Butte Lake State Park.
Since it was only 3:00 we decided to check it out.

This is a nice State Park! The campground was clean and you weren't packed in, the trailer sites had electric and water, they were arranged in a circle of about seven or eight sites with a sunshade over each picnic table, and in the center of the circle were six picnic tables under one large sunshade. This state park had remote campsites all up and down the east side of the lake, while I did not go visit them I expect they were just as nice. We decided to stay in the park for the night. We did decide to go to town for dinner, and headed up (north) on Rt 52. About 3 miles up we came to the town of Elephant Butte. The town gets its name from a butte in the lake that looks like an elephant, most of which is now under water.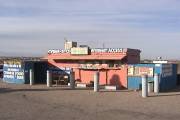 On the corner of route 52 and 171 is a cafe, it's pretty hard to miss as it is pink and blue and with a great big sign, it announces that they have Internet access. I found the place so funky that I had to eat here.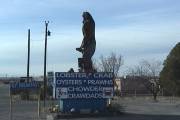 They had just about everything on the menu. I ordered a boneless pork rib sandwich and asked about the Internet access. The waitresses (who came to the US. from New Zealand to "flap her wings") took me around back to a trailer. In the trailer was a computer with dial-up access to the Internet and an old Indian watching TV. As I worked on connecting my lap top up to the internet I chatted with the Indian. I asked if he was a native of Elephant Butte? He looked kind of blank at me and said "I'm Indian". "Well I know that. I meant native to the town?" I said. "Oh…. yes" he said. (This is a carved wooden statue of an Indian holding a fish)
I checked my e-mail and went back out front to have dinner. It was OK nothing great. There is such a diverse menu. here, I think its all pre-packaged and frozen. So when you order something he just thaws it out and serves. Back to the state park to do some writing and have a warm night's sleep.

As the sun settled and we puttered around camp, very faintly we heard a burble and then a second, a third suddenly we were surrounded by burbles, the sound was coming from everywhere! Then a movement, out of the corner of your eye, you weren't sure, by the time you got to look at the spot, nothing! It was spooky, I knew it had to be a life form, the question is was, is it a terrestrial life form, and would it eat us? Finally I was able to actually see what was making a burbling sound, it was a (flock?) of quail! I would guess there were about 20 to 30 quail. They came across us like a tide, they washed through and left. As they washed through camp they managed to keep their distance from us, this kept them in the bushes and made it very difficult to see them.
Well it wasn't that warm it was 25 degrees.