We left the Desert View motel at 8:30 AM for our trip through Gila National Forest, temp last night 25 degrees. We gassed up at Circle K and topped off the spare gas can. And were off, we're starting the trip at T. or C. which is in the desert,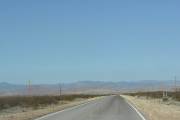 Gila National Forest contains mountains that we will be driving through, with the added altitude I am hoping we will see real trees. I am also hoping to find some challenging sections to the road that runs through the forest. However past experience with Rangers and their definition of tough roads leaves me somewhat skeptical when I am told "is definitely a four-wheel-drive road".
As we head out down the road we take interstate 25 down to the town of Gable where we turn right on Rt 152 the GPS has this as Route 90 toward the town of Hillsboro and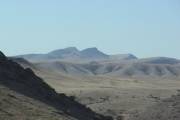 Silver City. This desert area is hard packed sandy clay with the very sparse grass. Off in the distance we can see the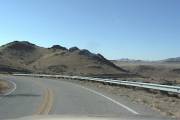 mountains of the Gila National Forest, the hills that we can see are earthen colors which means there's not much vegetation on them. As we enter the foothills we start to find a spattering of low bushes, and rock. We also come across a rarity for the Southwest a guard rail on a secondary road! When you get to the town of San Lorenzo turn right onto Rt 35, hey what you know! the GPS also calls it Route 35. According to the sign they don't plow this road at night or on weekends, I guess if it snows over the weekend you don't get to work until Monday afternoon. Don't forget to gas up, the middle of the wilderness area is no place to run out of gas! We are headed up; at 6700 feet we have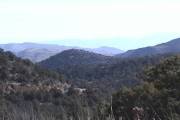 trees! As our altitude increases the sun becomes harsher as there is less atmosphere for the sun to pass through, fortunately because of a higher altitude there are trees to provide shade. This is a very windy road and while there are t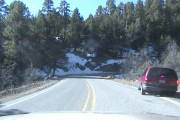 rees, unlike New England you are not driving through a tunnel of trees, there are abundant curves with vistas of green hills and mountains on this road. As we head up we get high enough to find snow in the shadows.